Specialist 3D Printing Services
At Bottega we offer a range of 3D printing services and products.
 We want to offer you much more than just a product. As well as our beautifully designed furniture and artworks that are handcrafted by a very experienced in-house team, we also offer a range of engineering and design services including commercial 3D printing services.
 Our materials of choice vary and can be complemented by a variety of high quality paint, lacquer and varnish finishes. Our workshop includes state-of-the art 3D printing equipment,
CNC machines and other computer controlled technology. We also offer a range of custom services suitable for gifts and souvenirs or simply to enhance your home. Learn more about 3D
printing business and get in touch with our friendly team to get started.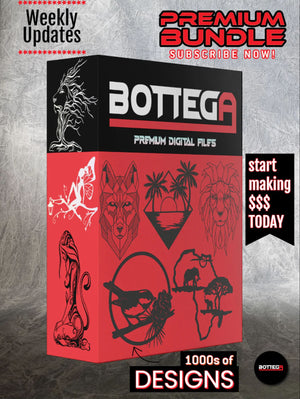 Premium Subcription
Get access to 5 weekly digital design files and more for your CNC Router, Plasma cutter, Laser Machine and 3D Printer
Subscribe to our Youtube channel
Our Brands
Custom 3D Printing Dunedin
Some of the materials we can print include PLA, PETG, ABS, NYLON, Carbon Fibre Reinforced Nylon and TPU. We also have the capability to print some exotic filaments infused with interesting materials like wood, alloy, copper or carbon fibre to create an extraordinarily finished product. Along with our 3D printing, we also offer high quality paints, lacquers and varnish finishes.
Our 3D Printing Equipment
As a specialist 3D printing business, we can take care of all your 3D printing needs including 3D scanning, custom signs and CNC milling. The 'PSYBER CUTTA', our CNC Router, has the ability to machine MDF, plywood, acrylic, foam, plastics, alloy, carbon fibre, epoxy, resin, concrete and wooden slabs. The 'VORON', our 3D printer, allows our team to make a wide range of products, very quickly. Compared to many of the other custom 3D printers,
Bottega can print and deliver products 4x faster than our competitors and with superior quality every time.
Custom Commercial 3D Printing Services
As the premier provider of 3D printing Dunedin wide, we just love making awesome stuff! Some of the 3D printed products we can do include:
Indoor and outdoor signs or plaques
Outdoor and garden screens
Infinity mirrors
Floating ceilings
Acrylic, epoxy and wood lamps
Ornaments, carvings and artworks
Furniture
Children's playhouses
Dog kennels
Tooling
Headstones
Models
Prototypes for retail/manufacturing/marketing
Automotive parts made with plastic, alloy, or carbon fibre
Moulds for products including carbon fibre, injection moulding, concrete, epoxy, or silicon
And much more.
We're always happy to discuss your custom project, so contact us today!